As the days get shorter, the tracks wetter and the club racing season grinds to a halt, motocross in this country takes on a distinctly different feel. Some people pound round all-weather official practice tracks, trying to keep their race speed up to scratch. But others relish the fact that it's winter and racing is a fair time away. So it's time to just kick back and have more fun on a bike.
Groups of dirt bike mad mates arrange weekend ride days, where everyone – no matter how fast or slow or what sort of bike they ride – loads their kit up into vans and congregate at a nominated track. And if it's a sandy, all-weather track that's privately owned by a mate of a mate, then even better. It's just more fun.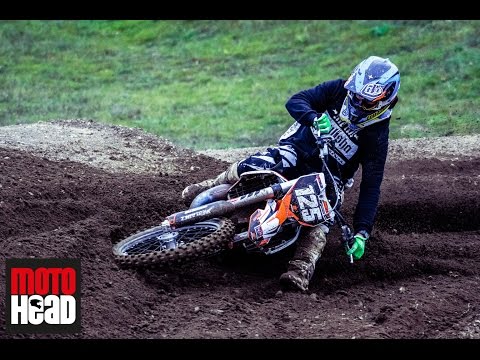 No marshals or first aid, of course, just a narrow dirt bike track for you to ride as much as you like, watch your mates, take some pics and video on your phone and sharpen up on the banter. Maybe even maybe finish the day with a dirty burger or hot dog or a beer, and drive home in the dark. Like generations of motocrossers and enduro riders have done for decades.
Of course, you don't often catch a serious Grand Prix racer doing that. While the rest of us just ride for fun or that old-fashioned phrase "going practicing", the pros are out doing serious testing. Stopwatches at the ready, avoiding sharing a track with the hoi polloi as they only ride with similarly skilled GP gods so they can always get a gauge for how fast they are. And on proper prepped tracks of course with mechanics to fuel up their bikes and clean their air filter.
That's unless you're Jake Nicholls, that it. Of course, when the rest of the dirt biker riding masses are at work in the week earning a crust to pay for a new bike, he's out training and testing like the true pro he is. But when the weekend comes, instead of just training and hitting the gym, Jake loves nothing more than doing what mere mortals do on their dirt scoots.
He slings a bike into a VW van, rides in a hoodie to keep warm and begs a quick go on his mate's variety of bikes. From old smokers to whatever that have. Just like loads of us do. There are drag race starts against each other – under the floodlights of a nearby industrial estate when it's too dark to ride the whole track. Everyone stopping to watch Jake turn two tabletop jumps into a massive double that mere mortals wouldn't even consider trying. Then instead of praising him for his bravery, making fun of his fresh new home-cut hairdo and recently chopped-off Movember moustache.
We know, because we were there. For two weekends, we joined Jake and his bunch of mates for some real down-to-earth riding – just for fun. First time we went to the infamous track that Jake's dad has on his own land. Complete with massive GP-size jumps. And we struggled to wrestle our long-term 125 and 250 two-strokes off him as Jake had a blast revving the smokers like they should be. And a couple of weeks later we went along to another private track right near the East coast, too. Where he had a blast on a old-school CR500 Honda smoker, as well as a last ride on his 2016 Husky 450 – a couple of weeks before his new KTMs were delivered.
"After the season ended I had four weeks off and had a holiday, and since then have been riding a bit," says Nicholls. "I've put on a bit of weight but not lost loads of fitness. And then started I started training seriously again and after 10 days I was where I was at in January last year after two months of it!
"This time last year I didn't have a ride sorted or a bike. But now I have a bike and I'm riding once or twice a week for fun. And including it as a bit of training. The old school way was to switch off and just train for two months but nowadays it seems like everyone is doing more riding.
"And diversity is good. It's important to keep out on a bike. I play on two-strokes and ride my mate's bikes – and they have all sorts of bikes. We swap about and have a laugh. I have an enduro loop to play about on. And it's all about having fun. It's why I ride bikes and I'm having more fun riding now than ever in my life.
"I'm doing what I used to. A load of us go out on a Saturdays. We load the bikes up into vans, ride at the track, take the BBQ and even have a few beers afterwards. Proper hillbilly stuff!"
Away from the pressure of having to perform, with team managers, sponsors, factory bosses and the like having to scrutinise every lap, it allows a rider like Jake to just be himself with a close group of friends he trusts.
"I'm not pretending I'm anyone else. That's why I do it. I may be faster than them but I'm exactly the same as them, I love riding bikes. I love messing about with them, helping the boys with their riding and setting their bikes up.
"And I enjoy seeing them enjoy their riding. Which is weird as I have no reason to as at heart I'm a selfish motocross rider – we're all selfish as hell! But there's something weird with me that when I see them not enjoying it, it really bugs me. When I know that changing a few silly things can make a big difference to them, like setting their sag. I get such a thrill out of watching my mates have a laugh."
And showing them how their old-school CR500 should be ridden, of course.
It's a real release for Suffolk-based Jake who has been a full-time pro rider since he left school. Now 26 and married to his long-time sweetheart, he lives near his family's house which has its own track. He also has access to a few private tracks nearby that he rides regularly, and if you're lucky, he may invite you, too.
Jake is happy, and certainly very fast. And crucially for him, he's got his confidence back after a few seasons of injuries kept him out of the limelight.
"2016 was my third season in MX1 but in 2014 I missed half of the year when I broke my finger. And start of that year I hurt my back and didn't miss many races but couldn't ride in the week," he says.
"Then 2015 was a mixed bag as I had loads of injuries through the year. I don't really class it as a season. I broke my wrist at the first race, came back what seems like 10,000 times and it kept getting worse. I finally got my wrist right then crashed in Latvia and hurt my back. That wasn't right until start of 2016."
It's fair to say Nicholls started 2016 as an unknown quantity. He may have come close to winning the British GP in his last year in MX2 but had not had a full season on the big bikes. And as he joined Roger Magee's team for 2016 which had just swapped from KTM to sister brand Husky, the bikes arrived late and the team decided not to go to the first four fly-away GPs.
"At the start of 2016 I didn't know what to expect. I knew nothing about the bike as I hadn't ridden a 450 for a year as was on 350 KTM at Wilvo. I didn't know my speed. All I had was the hard work I'd done in the off season and my stopwatch times against people like Tommy Searle who came to my track in the off-season and did some practice.
"I'm very realistic. I would be faster than Tommy when he got here, and at the end of the day we'd be about the same. But it's my track, and I knew I wouldn't be able to do that at lots of other tracks. I didn't get false confidence. Sometimes that hurts me as I'm a it realistic and don't lie to myself about that kind of stuff. I started with nothing."
But at the first British championship round at Lyng, Nicholls suddenly got a wake-up call that actually, he was still incredibly fast.
"In the second race I got an OK start and was third. And I caught Shaun Simpson up by the end of the race. I thought wow, I can do it! I finally got some belief. I just needed that little reminder. I honestly had nothing before that point. It happened two rounds in a row. Like at Canada where I caught him up again. And I finally won an overall at Desertmartin. I had a little bit of luck but I was on the pace as well. In the right position, was sensible. Desertmartin was my first overall win. I'd won a moto in MX1 before in my first year a couple of times before I got hurt.
"I was really happy as Desertmartin freaks me out a bit. I'm not overly confident around there. I'm just a steady old boy around there and it paid off that day. You hear people say it's their favourite track in the world and it isn't mine! It's a proper man's track and I'm not 100% there. It helped it rained all day and some people can get a bit negative about that. But it doesn't bother me."
A return to GPs also went well. "I had such a good season and learned so much. The year was to learn, get some confidence and try to get into the top 10 in at least one race. And I came up short four times – 11th! But I'm chuffed to bits – gutted but chuffed!" he says.
"Anyone with any brain can see how tough that class is. And we were racing on bikes that anyone can go out and buy while some bikes have millions spent on them. I'm just an old boy from Suffolk with a year off through injury. And I worked hard and got back on with it. I had a good qualifying race in Spain, battling with Tony Cairoli for fourth place for virtually the whole race. I eventually finished sixth. Shame it was a qualifier, but it gave me confidence."
Nicholls finished the season on a high, and fully fit. And with his team changing back from Husky to KTM, it's even better as the bikes are similar in so many ways.
"I know we already have the bike better for next year and I can do a lot better. I'm not going to set the world alight, but I know I can do better next year," he says. "I really liked my Husky this year and it would be shame to have to learn a new bike. Multitek did some work for us at the end of the season, making some new ignition maps and I was shocked by the difference it made. I'm already looking forward to trying that on the stock KTM. Putting all the development into it and we'll go forward again.
"I'm fitter now, too. In November last year I needed a change so I started training with a South African guy called John Wakefield. I've never had a problem with motivation and fitness has never been an issue, but confidence has. Sometimes I do too much training. We don't realise how hard it is riding.
"My relationship with my trainer is through email and WhatsApp. I've never met the bloke in my life! I have seen what he does and I trust him. He knows I'll do everything he tells me. So if it's a two and half hour bicycle ride and I get home with five minutes left to ride, I'll go past home to finish it. He knows that, and he tells me what not to do. I do less training than I used to, but more quality stuff. He monitors what I do through my watch and shows me how hard riding is on my body. That's the difference and why I'm happy going riding with mates at weekends
"All last year, I didn't get ill once – which has been a major issue right through my professional career as I've been doing too much training. I finished the season off well apart from getting some heatstroke at Glen Helen in California which I didn't know I had!
"I'm trying to stay sensible as I know how far ahead I am right now. It would be easy to get over-confident. And I know in sport it can change very quickly."
Nicholls plans to stick to his winter fun riding, then the serious stuff starts in January at the Redsands track in Spain where he'll do the new International race there. "We're down there training as it's a good track and will be a good judge of speed. Then it's the Hawkstone International, then two weekends off before the GPs starts. People say it's a long season but that's why we do it! If I have a weekend off, I go riding anyway.
"And next year it's me in MXGP and my team-mate Ben Watson in MX2 GPs. It's such a shame when he got hurt at the start of 2016. I really needed a team-mate as I was so unsure and unconfident. I like Ben and have always got on well with him. I'm chuffed to bits to hear he's back to good form. Hopefully he'll have a good season together."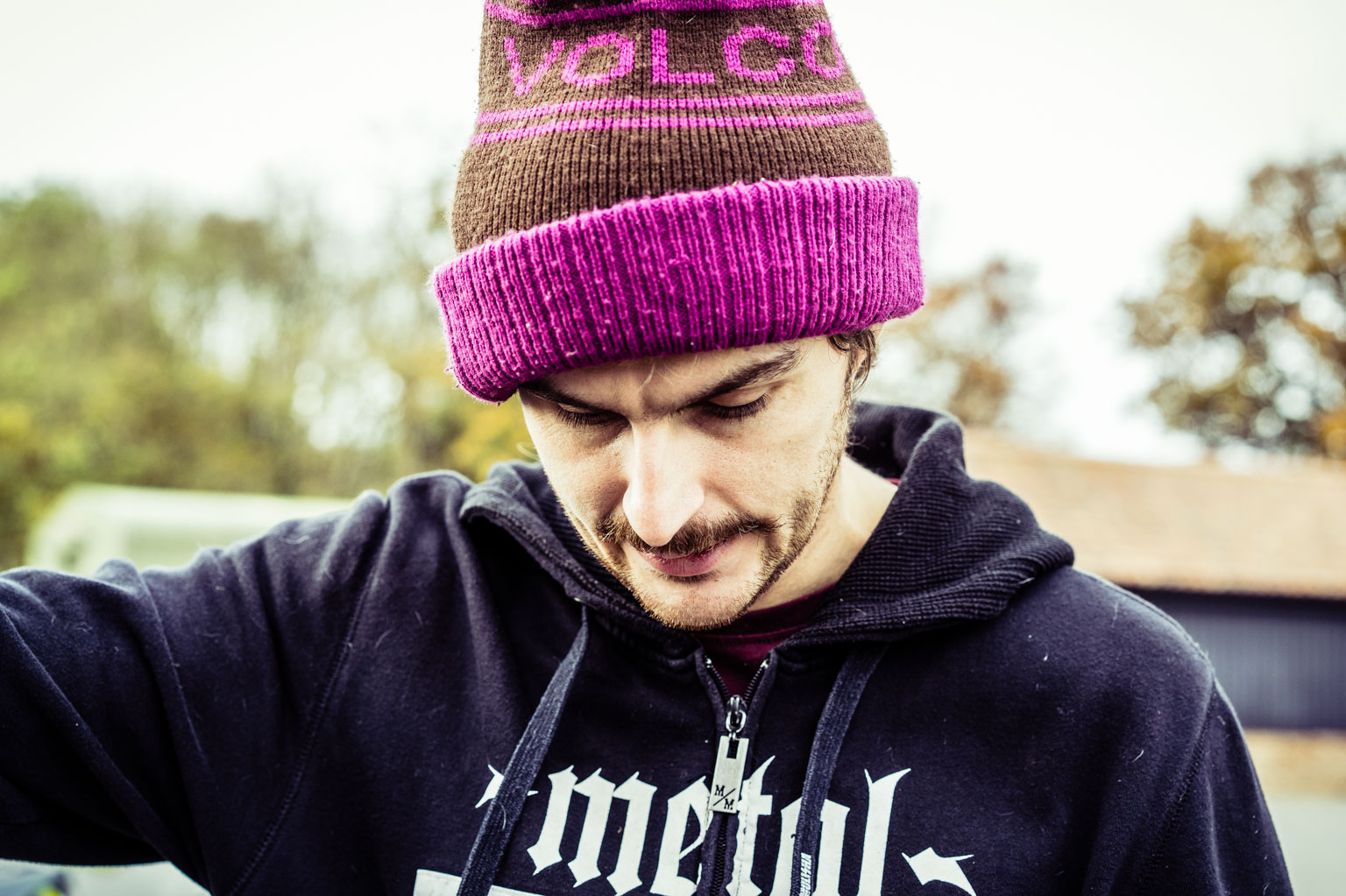 With Jake fit, knowing his bikes going to be good, relaxed due to his winter of fun and having a team-mate he gets on with, it looks like 2017 could easily be his best season ever in MXGPs. But deep down, you can't help but feel that even if he does stand on a GP podium, he'd have just as much fun riding round a Suffolk scrambling track with his pals.