For years British motocross fans have yearned for a proper indoor series on great tracks, with a fantastic support show and most importantly, good racing. Not just turning up to see one superstar American give a riding lesson to outclassed locals. Well, after years of building the series up, the UK now has a full-blown championship it can be truly proud of.
With world class riders, really close-matched racing, lots of fun and cool FMX too. And best of all, it's in major cities all over the UK and Northern Ireland so the majority of people can get there. And sit in comfort to watch the action, or even take a track walk and rub shoulders with the riders in the paddock. As the series kicks off in Manchester on January 7, then goes to Glasgow a week later then Birmingham on January 21, Belfast on January 27-28, Sheffield on February 11 and ending at Wembley on February 18, we look at why AX should be high on your lost of things to do this winter. You can check out details and book HERE.
1 It's the VIP motocross experience
No muddy fields and getting towed out of car parks, no rubbish commentary you can't hear and toilets that look like something out of a horror film. Arenacross is the acceptable face of our sport, something your non-biking mates, family or missus will actually enjoy, as it's a great night of entertainment and they can see the whole track. From a comfy seat in a warm arena, rather than perched on a sub-zero slippery bank next to a bog.
And if you really do want the VIP Experience, for an extra £20 on top of your ticket price (or a tenner extra for kids), you can upgrade to a ticket that gives you a track walk, meet and greet the riders and a programme. There are even VIP packages that'll give you some free merchandise, VIP suite, food and lots more. Go on, you're worth it.
2 There's a bit of glamour and a lot of fun!
There's nothing that says big event like a few scantily clad girls in lycra, and the Arenacross has those for sure! Check out Miss AX and her mates, as they're always up for a photo or two. As is the new AX mascot Max that the kids will love.
And the whole event is all about having a great night's entertainment. Form the motormouth commentators to the light and laser shows, plus maybe even a bit of impromptu beat-boxing, it's a fun night out.
And even if you can't whip to save your life, you can always pretend to your pals that whips and backflips are just what you do out on your bike every weekend.
3 It's flipping marvellous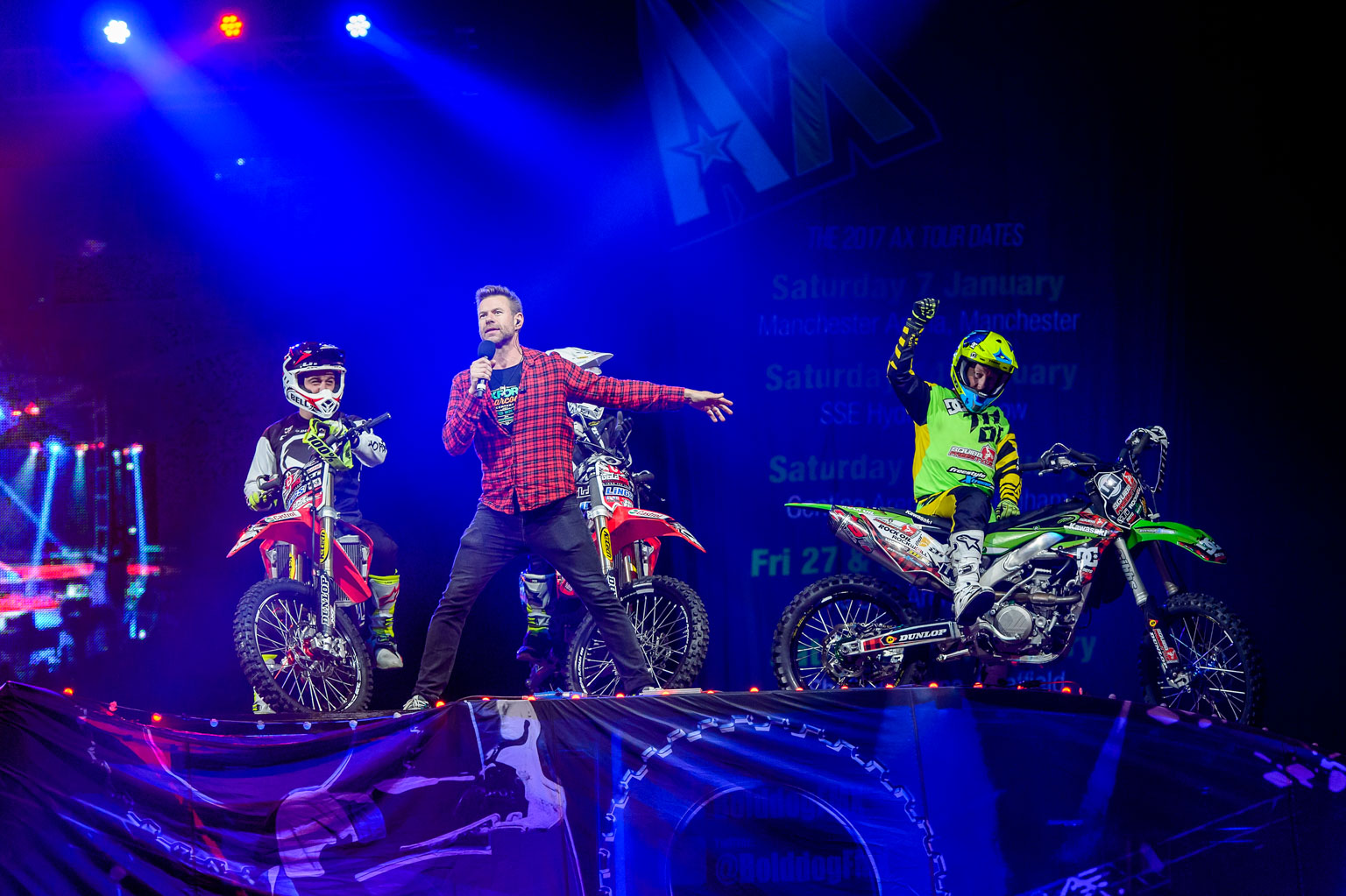 You just can't ever tire of top freestylers doing their thing, which is exactly what they do at all the Arenacross rounds. For the more old-school, there's nothing that beats the purity of a whip and the FMX crew deliver every time. Or you may be more of an invert fan, where life stars when the bike is upside down. Whatever floats your boat, the FMX is always stunning and has lots of top riders. Even former GP and British championship rider Nez Parker will be styling it for fun now he's made the move full-time to FMX.
4 The tracks are designed for racing
If there's one man who knows how to make a great Arenacross track, it's Justin Barclay – the man who has shaped many of the best GP and Motocross of Nations circuits over the years. Fans and riders demand the most radical and technically-challenging tracks ever to grace a concert arena, and he delivers. The jumps a re big, the whoops are deep and the rhythm sections demand 100% concentration and skill. But not only a tough track that tests the best, but also one that allows close racing with a choice of lines so that riders have to be not only brave, but smart, too.
5 Tommy is gunning for glory
Yes, that's right. A real global superstar, the current British champion and MXGP world championship rider, the former AMA Supercross pro has decided to throw his hat into the ring for the first time for a full season of Arenacross. Enthused for indoor racing once again after contesting the SMX Cup in October, Tommy brings real world class to the event – but he knows it will be a tough ask to beat the AX regulars. Especially as the races are so short and action-packed, making the start totally crucial.
"I'm under no false hopes that I'm going to just win every week," he said. "Those Arenacross guys are very fast and will take some beating."
Searle will be joined on Kawasakis by Jack Brunell – fresh from a winter of European Supercrosses. And Dylan Woodcock, who has been fine-tuning his skills in the USA, will be the Pro Lites rider and Kacey Hird the Super Mini contender. And recently-retired racer Bryan Mackenzie will be the team manager.
6 Whatley is back and means business
Former British MX1 champion Kristian Whatley is back in Arenacross for the first time since he finished fifth overall in 2014. This time he's armed with a new bike – a 450 Husqvarna that he'll ride in the British championship for top tuners MVR-D. And after a poor 2016 season that saw him miss most of the latter half of the season, he's totally motivated to race hard again and prove he has what it takes to challenge the very best.
MVR-D will also field Frenchman Adrien Escoffier, and 2015 AX Rookie champ Ollie Osmaston in the Pro Lites class.
7 Soubeyras could be the superstar
There's one man who has had more run-ins with top American supercross riders than anyone else in recent years, and that's Frenchman Cedric Soubeyras. He raced the AMA East Supercross series and banged bars with riders like Malcolm Stewart, and in the European winter supercross races, he's batted hard with riders like Justin Barcia. He's properly quick and talented, and narrowly missed out on the UK title last year after a few too many spills.
This year, he returns on a Suzuki for the RFX St Blazey team, where he'll also have top Italian rider and UKAX regular Angelo Pellegrini for company. Also in the team is young Brit George Clarke in the Pro Lites. After narrowly losing out on the 2016 crown, he's determined to take the title this time.
8 Ramette's return match!
The amazing take-out clashes between Soubeyras and his rival Thomas Ramette continued pretty much all the 2016 Arenacross season, culminating in a video clip of total carnage that went viral. The pair take rivalry and determination to a new level, and that is likely to continue again in 2017.
Ramette has already been sharpening up his pugilistic skills after a push-and-shove match with another rider at the recent Geneva supercross. He's no push-over, for sure. Suzuki back the two-time AX winning team of SR75 World Suzuki. Run by Brit Geoff Walker, it's the only team to return with the same riders - reigning champ Ramette and his occasional henchman Cyrille Coulon.
9 Dave Thorpe – the star of supercross!
Don't get excited now, the triple world 500 champ isn't making a comeback to race! But he's a massive supporter of Arenacross and is fielding a strong team of his own and using his links with Honda, there's also a second CRF team in the shaoe of Keystone Racing. Thorpe's Buildbase team was due to field Frenchman Fabien Izoird until he got injured, so he's now going to be replaced by the first-ever AX champ Adam Chatfield, together Matt Bayliss, and his brother Chris in the Pro Lites.
Keystone have Florent Richier ex-MXGP rider Alex Snow and Joe Clayton, last year's Pro Lites winner who has been racing hard in Euro Supercrosses.
Chatfield's 11th-hour departure from the new FRO Systems PAR Elite team mean his slot is to be taken by rapid young French rider, Gaetan Le Hir. And FRO will also field the Welsh Greedy brother, Ashley and Josh, but riding Yamaha.
10 Youth are the future!
Time and again, the youth classes at Arenacross have been a breeding ground for talent of the future and this year should prove no different. This year the 250F Pro Lites class – that used to be called Rookies – moves up to the big time as the riders are part of the full pro teams. And one of the favourites must surely be I-Fly JK Yamaha's French wonderkid Yannis Irsuti who has been setting the world alight in the French SX Junior series. Coached for Arenacross by team boss Dickie Dye, Irsuti will also be getting advice from the team's Aussie pro rider Jay Wilson and is out for the win.
The youth classes have races for riders aged from seven, and it's always a massive draw for the spectators. Many of last year's top 65cc riders have moved up to the Super Mini 85cc class, such as Arai Elcock, Tye Jones and Ezra Blackwell. And the super-competitive 65cc class could be a real shock winner as it's only Charley Irwin from Belfast who is returning. Who knows, we could be looking at world champions of the future!