Pack a tight supercross-style track with little opportunities to pass into an arena for short sprint races, surround it with 7000 screaming fans in an almost-sold-out venue, add in the glamour and razzmatazz of a proper show and the recipe is always going to be set for some drama on and off the track. And the opening 2017 Arenacross round in the Manchester Arena delivered it in bucket loads.
With spills, surprise no-shows, the whiff of team tactics, old rivalries and money and prestige at stake, the MEN Arena rocked with some amazing racing – especially the final where few really expected Italian Angelo Pellegrini to take maximum points by winning the all-new Hot Lap session followed by the main event win. Let's check out what went on in Manchester on the first Saturday of 2017.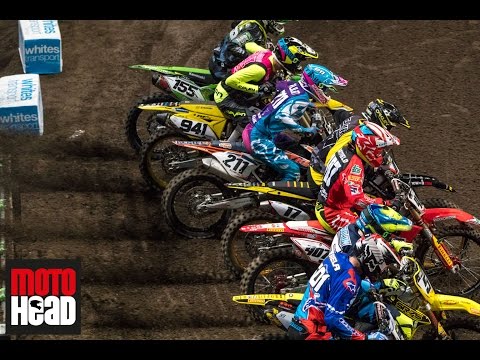 The show gets better and better!
Arenacross isn't just a race for motocross fans but a real show for the masses. And it gets better every year. Loud music, big screen TVs, fireworks and scantily-clad dancing girls with spectacular fire sticks got the crowd going. The riders are introduced like rock stars, and even the kids get a huge standing ovation and are made to feel like superstars as they are presented to the crowd. There are no big gaps in the evening's event – unlike many of the European Supercross and Arenacross events, either. It's warm, dry, fun and spectacular. If you're a fan of motocross then you owe it to yourself to get along to an Arenacross this year, and take your mates to show them how cool the sport is.
The FMXers just get wilder
With a crowd that's out for a big night out, it's the freestylers that really get them going. With Britain's top riders such as Jamie Squibb plus ace foreigners like Edgar Torronteras, it's short-and-sharp action that's spectacular. You may not be a huge FMX fan, but the top tricks from these riders are impressive. Backflip variations and the always-popular train are simply awesome. And you can even check out former GP rider Nez Parker doing his stuff now he's quit racing and gone to the dark side – FMX. One scary accident was a head-on crash that took down Edgar Torronteras, though. Not on the ramp, but returning to the start after his leap. That's always a problem with a gaggle of FMX riders, a dark stadium and lots of noise and action. Thankfully, nobody was badly hurt.
Suzuki dominates Supercross
For a bike that looks like it's hardly changed since 2008, that weighs more than the rest of the 450s in stock form and doesn't have any funky reverse engine, twin pipes or much other high-tech gadgetry, the yellow bikes ruled indoors that first weekend in January. Not only were there more Suzukis that qualified for the Anaheim Supercross season opener than any other brand, but across the pond in Manchester Suzuki's RMZ450 qualified quickest then won all four heat races, the Hot Lap, and the main event.
Many thought the main would go down to a showdown between Suzuki's trio of Frenchmen - Cedric Soubeyras on the RFX team, and the SR75 World Suzuki riders of Thomas Ramette and his chief henchman Cyrille Coulon. All three had been blazing fast all night, with Ramette winning his heat races and Coulon his in front of Soubeyras, although Italian Pellegrini had won the hot lap.
Last year there had been lots of high-profile clashes between arch rivals Soubeyras and Ramette. And triple Arenacross champ Ramette had recently been involved with an on-track skirmish at the Geneva supercross, proving he was ready for action and not scared to be aggressive.
But their rivalry lasted less than 100 metres in the main event, as Ramette holeshot but lost control over the first small jump and cartwheeled off the track, collecting Soubeyras with him. Ramette was out for the count, but Soubeyras played a more dramatic role in the rest of the race…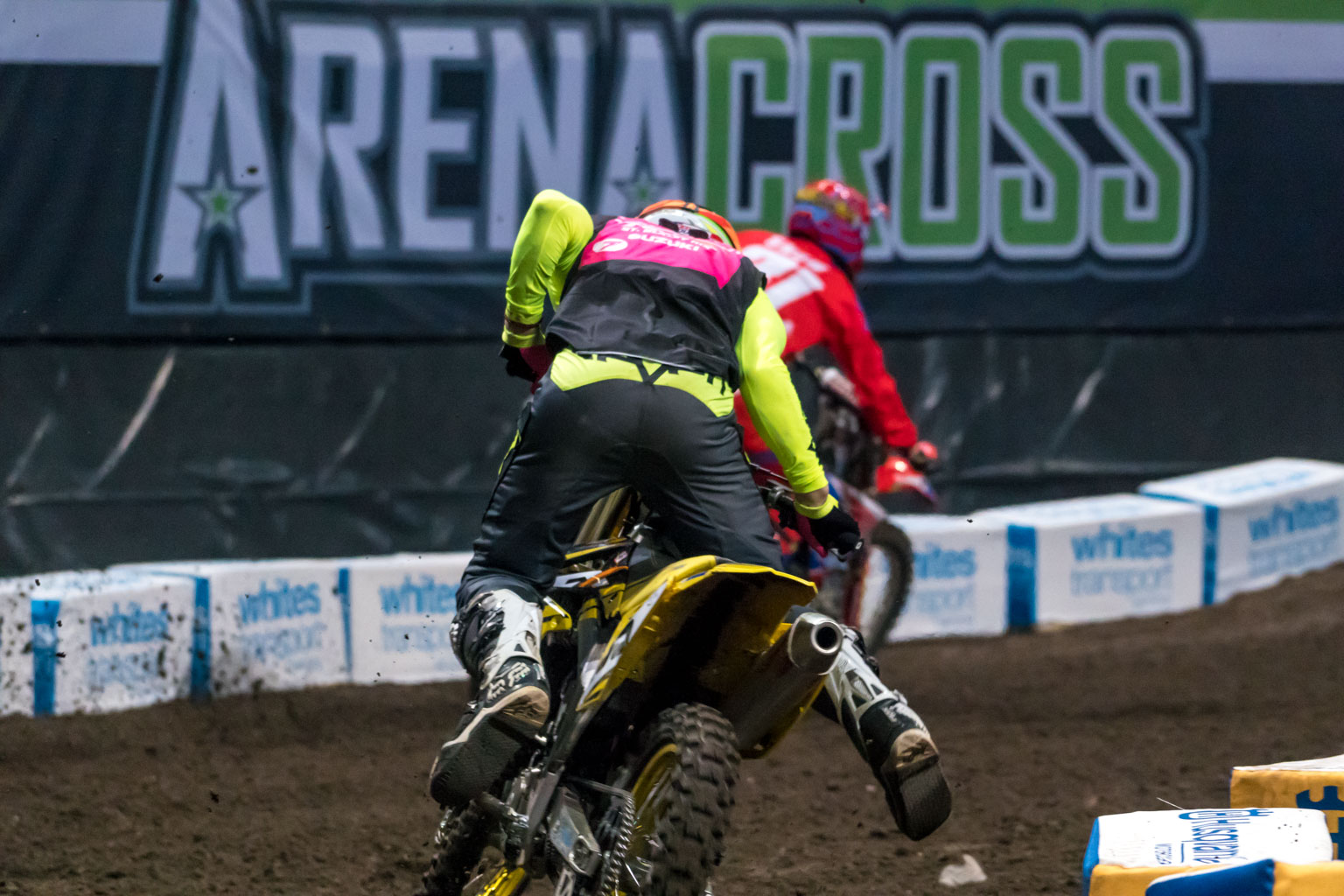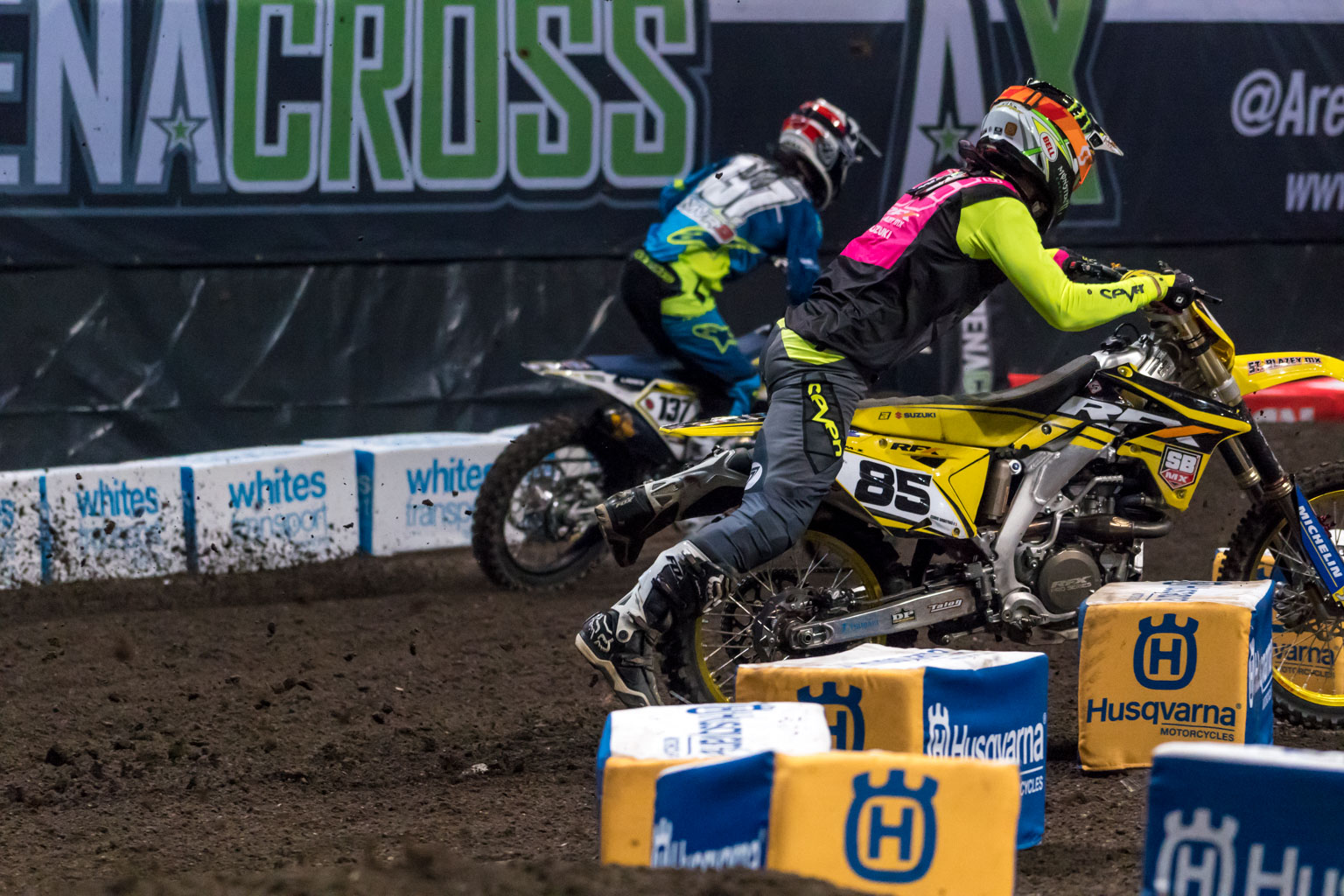 Lappers, spills and bent bikes!
Picking his bike up and setting off again just before the leaders came round to complete their first lap, it looked like Soubeyras was in the lead! But the reality was that Briton Adam Chatfield was the leader, tailed by Honda's Florent Richier, Pellegrini, Kawasaki's Hugo Basaula with Coulon close behind.
But instead of Soubeyras just moving out of the way and letting the leaders through, he allowed Chatfield past then tucked in right behind him as Pellegrini passed Richier for second.
Then Soubeyras made his move and overtook the race leader Chatfield! Maybe he was riding to help his team-mate Pellegrini who was right behind him. Maybe he wanted to show he had the speed to win and was just trying to de-lap himself. Either way, it ruffled Chatfield.
But the quickest man on the track was aggressive Coulon who demoted Basaula, Pellegrini and Richier to then move up to second place behind Chatfield. Coulon made a lunge to get by, and Chatfield retaliated and the pair made contact in the next corner. It was the decisive move of the race, as Chatfield slipped off, and the impact bent Coulon's gear lever so he no option but to cruise round with his bike stuck in first gear.
The 29-year-old Brit got back on and managed to hold third place to the finish. "The Main Event was a crazy race!" he said. "I was going well until I passed Soubeyras – who was a lap down – and he passed me back. "It rattled me a little bit and then Coulon came into me and we hit and I went down. I picked it up and ended up third. It's a shame I crashed but it's a good start – it's a long series and I'm happy to kick it off on the podium."
The drama left Pellegrini in the lead with Honda man Richier behind him in second which they held to the flag with Chatfield in third. With Frenchman Adrien Escoffier fourth for the MVR-D Husky team, British riders Jack Brunell took fifth on his Kawasaki from Honda's Matt Bayliss.
Facebook gets Featherstone on the start
Just a week before the Arenacross started, talented 19-year-old Briton Gradie Featherstone had been promised a wildcard entry in the Pro class but didn't have a team or bike to ride. A social media post from MotoHead's own Dave Willet about Gradie's plight caught the attention of the UK motocross industry, with brands coming forward to offer support for the rider who last year qualified for three AMA Supercross 250 Main Events.
In a matter of days, Willet quickly put his XBladez team back together and co-ordinated support from WD-40, Husqvarna, ZeroNine graphics, Absolutely Plastered, CI Sport and Doc Wobs Imports, who helped put the bikes together literally on the eve of the race.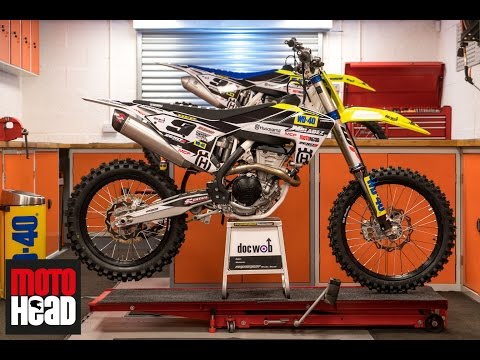 But practice at Manchester would be the first time Gradie would be on the 350 in the Pro class, but he quickly got used to the bike and picked up the pace.
Every session there was an improvement which eventually left him in sixth place in his timed group and was second fastest Brit.
He was put into a stacked heat one and got himself into fifth by turn two. He was looking comfortable until a small error on his part cost him some time and allowed the riders behind to launch an attack which left him tasting the dirt.
Dusting himself down for the second heat, again he managed to fight his way to fifth but again a small mistake cost him and he ran off the track. So that was it, he didn't make it through to the final.
"I'm so disappointed as so many people came here to see me and I'm shocked at how many people supported me just to get me on the start line," he said.
But it was no disgrace in not getting to the final, as lots of experienced riders also didn't make it through, like ex-GP rider Alex Snow and Aussie pro Jay Wilson. It shows the depth of talent that's now racing the UK Arenacross series in the Pro Class.
No-shows, injuries and more!
Perhaps the biggest surprise of the Manchester Arenacross was not what happened on the track, but what happened away from the public gaze, in the pits. That's where the MVR-D Husqvarna team had the No227 Husky 450 ready for ex-British champ Kristian Whatley to make his race debut. But the rider was nowhere to be seen.
Despite successfully testing the bike recently in Spain, it seems there was a last-minute disagreement between Whatley and his payment for his Arenacross ride. So when 11th hour attempts to sort it out failed, Whatley stayed at home. And two days later came the announcement that the relationship between MVR-D and Whatley was over for the year. Coming off the back of missing the end of the 2016 season with Buildbase Honda due to "personal reasons", the saga around the talented ex-champ continues.
At least MVR-D had a great night in the Pro class with Frenchman Adrien Escoffier making it through top the final and taking a strong fourth place.
It was also a sad time for British champ Tommy Searle who had signed up to race the series, but had to withdraw after injuring his knee in testing a few weeks ago. He did show up at Manchester to fly the Kawasaki flag. And he was replaced by Portuguese rider Hugo Basaula who scraped into the main event after winning the new-style last-chance head-to-head race.
The Manchester race also saw a painful end to the championship challenge of Pro Lites rider George Clarke who broke his arm. His place in the RFX team will now be taken by Ulsterman Jason Meara.
Youths bring the house down!
The youth classes always get a huge reaction from the crowds, and Manchester was no different. Of course, the real youngsters get lots of support as nobody can fail but to be impressed by the little riders on their tiny bikes really going for it in the 65 and 85 classes.
And in the 65 class, they went mad for Freddie Bartlett who coolly told the crowd he'd turned seven a few months ago then went on to take second spot behind Ashton Boughen with Charley Irwin third. And in the 85s, Ben Clayton beat Kawasaki's Kacey Hird from Louie Kessell.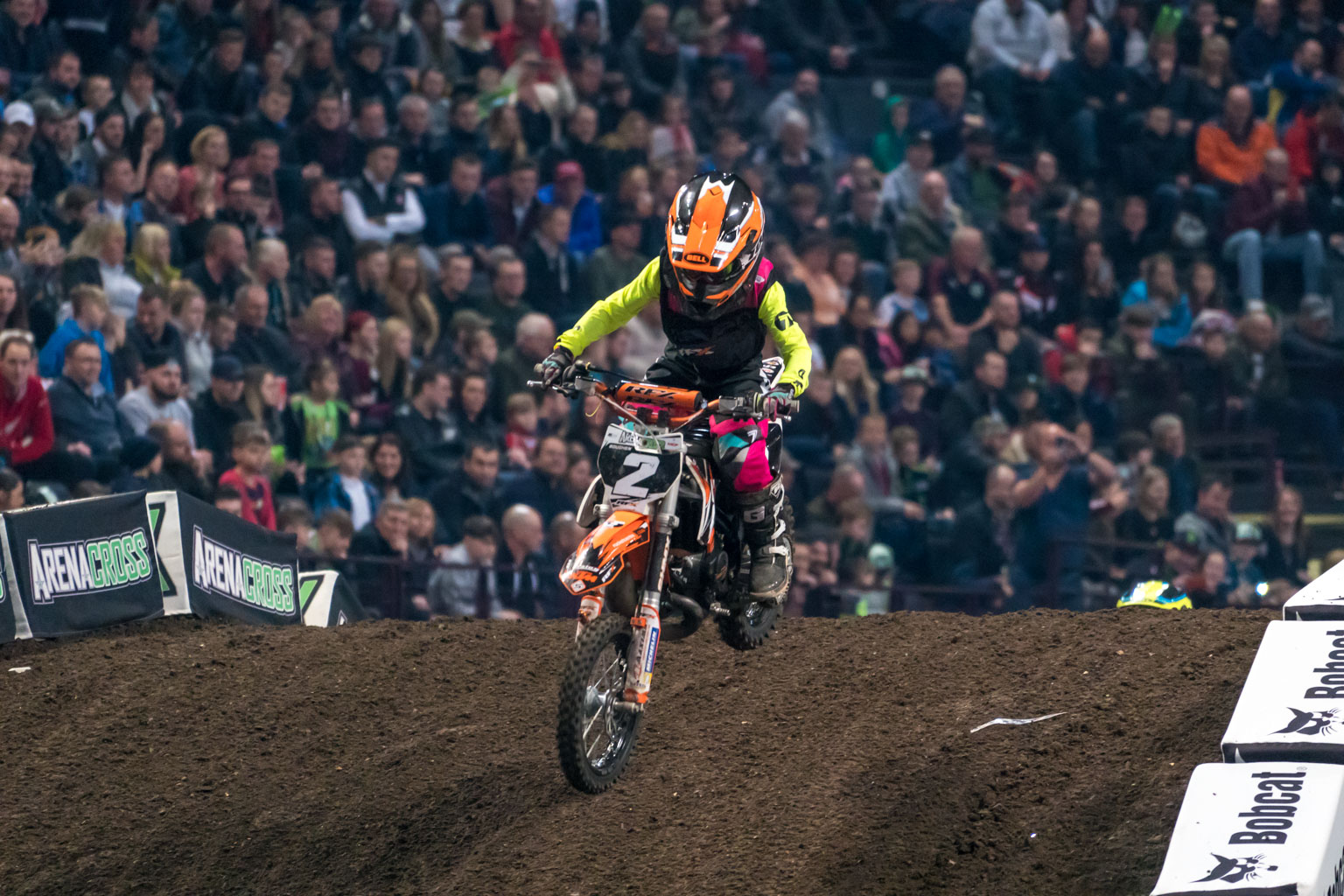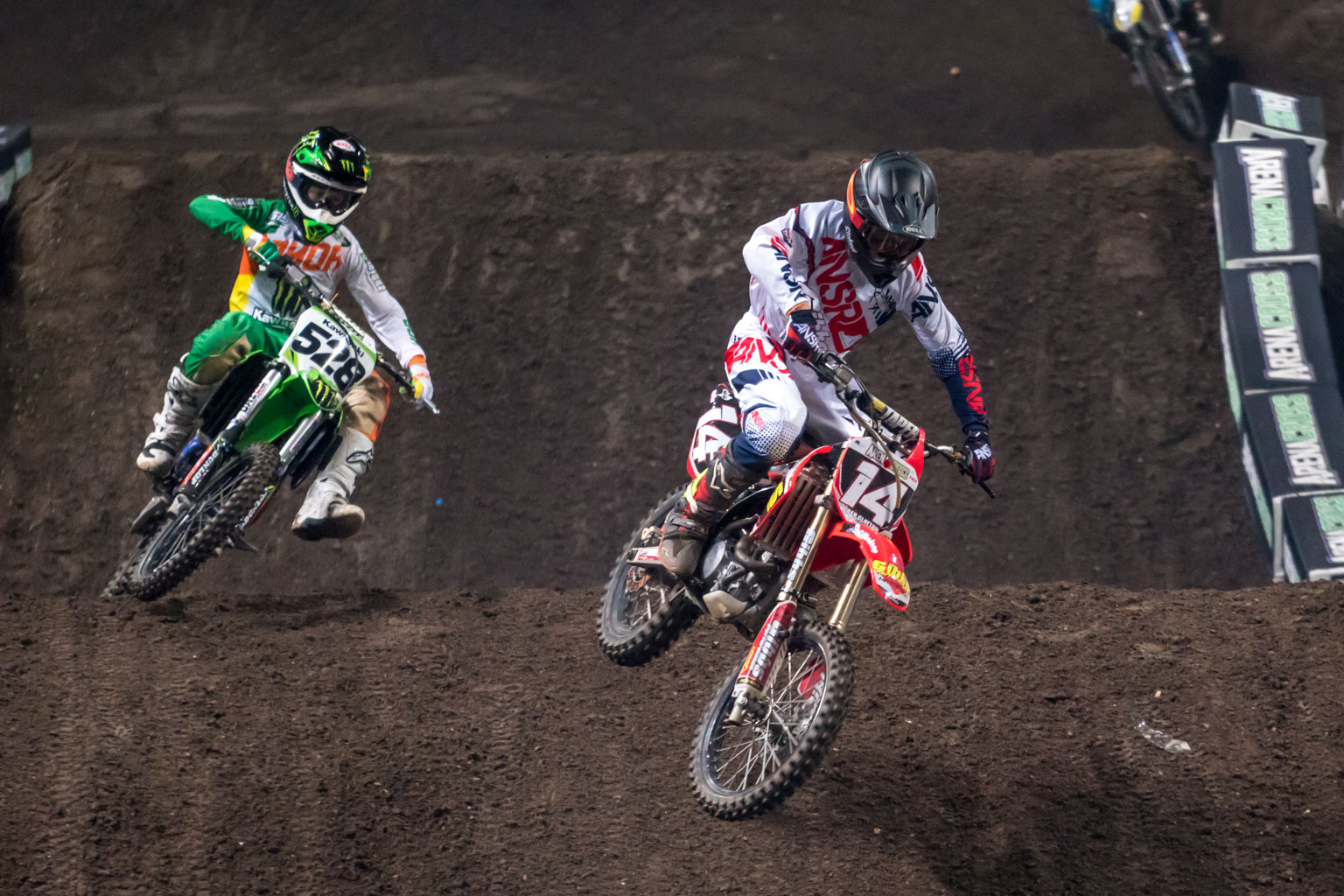 But it was the renamed Pro Lites class where the action really came alive as talented French youngster Yannis Irsuti, coached by ex-GP rider Dickie Dye on the I-Fly JK Yamaha, came from behind to take a double win from Chris Bayliss, whose older brother Matt raced for the same Buildbase Honda team in the Pro class.
But it was real heartache for Joe Clayton, brother of 85 winner Ben, who led the first race and fought hard to keep the lead from Irsuti. The pair went side-by-side on the last lap and Clayton made a lunge on the last corner but fell. He couldn't get his bike started quickly enough and saw lots of riders steal places from him. With the next round at Glasgow on Saturday January 14, he'll be back in action and trying hard to make amends for his Manchester mishap.