1 Ken Roczen is the real deal
With the high-profile switch from Suzuki to Honda in the winter, plus the all-new factory bike and the sort of global profile K-Roc gets, he could have been setting himself up for a massive fail if he'd not done the business at Anaheim. Especially turning up at press day in a suit and Honda NSX sports car like MMA fighter Conor McGregor.
Roczen was on fire all night, although Marvin Musqin gave him a run for his money in terms of qualifying time. But when it counted for the 20-lap main event, Roczen snatched the holeshot by a tiny amount from Musquin and pulled away unchallenged to a 16-second lead. Job done.
"Tonight couldn't have gone better. I'm happy to come away with the win but I'm staying really calm and taking this season week by week, which I don't think I did in previous years," said the ex-world MX2 champ. "It's important to take this race and enjoy tonight and tomorrow but to continue to look ahead, focus on the next race and not get caught up. At the moment I'm just having a lot of fun. The team is great, they're working hard and all the details that make me super happy are in place right now."
But winning the opening race of the year is not a good omen for the championship, it is often said. Ryan Villopoto did it in 2012 but it's not been done since then. Roczen did become the first rider in history to win the Anaheim opener aboard three different brands of motorcycles as he's won on KTM and Suzuki as well as now Honda.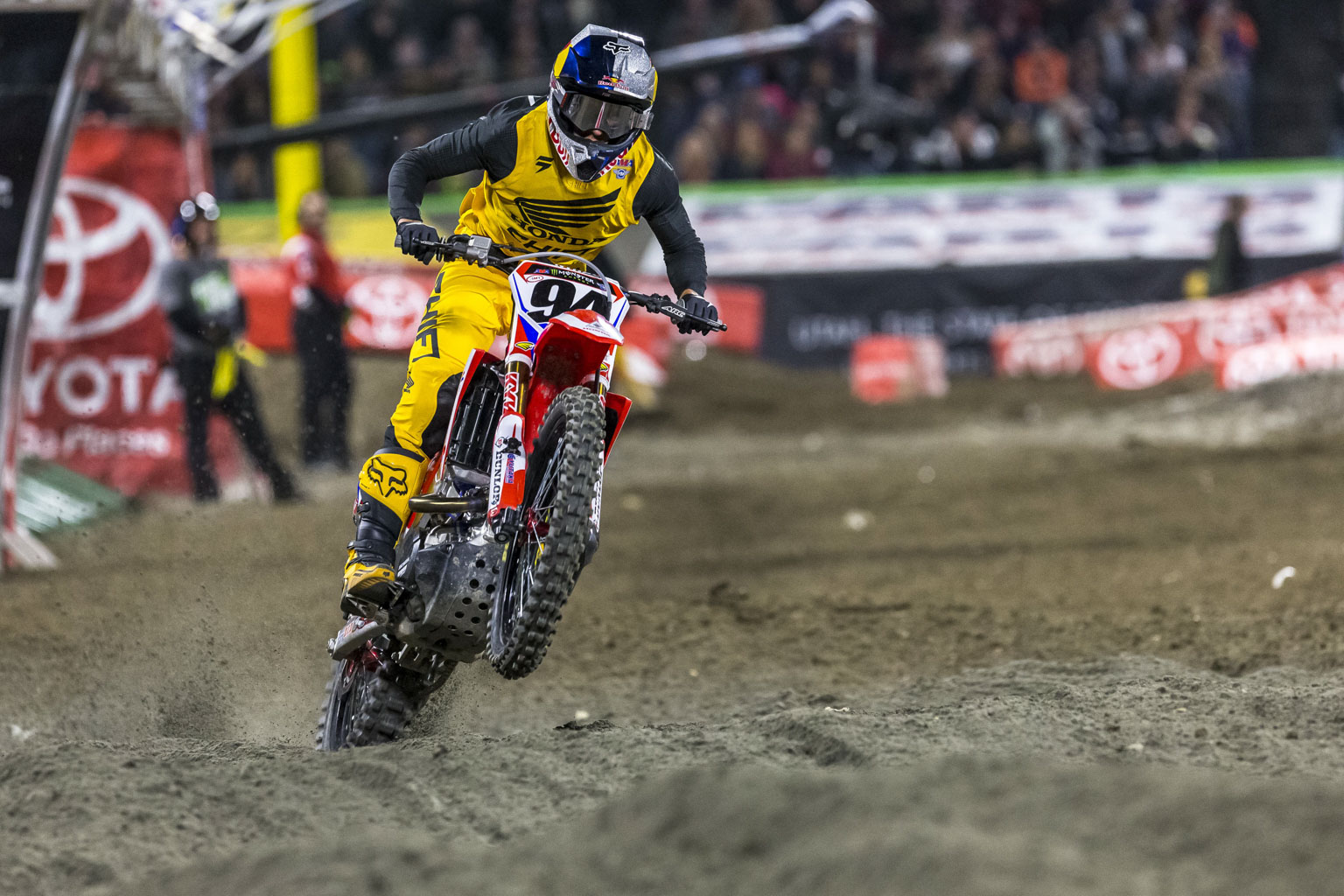 2 Don't write Dungey off yet!
Many people are already saying that the title is now Roczen's to lose rather than Ryan Dungey's to win. That only a Roczen fail can stop him, as he's clearly the fastest rider. Roczen was in a league of his own in the race, of course. But Dungey didn't get the best start and in his typical style, worked his way up from eighth to second place like a true professional. Then seeing how far ahead Roczen was, took a calculated second. Dungey is a pro who knows the season is long, and that you don't want to peak too early or get burned out too soon. That's how he's won most of his championships.
Roczen admitted he aims to intimidate people, saying he wants them to be scared of what he's capable of. But you feel like laid-back Dungey isn't fazed at all.
"It was my first time back on the gate in a while but no excuses, I feel like we're off to a pretty decent start," said Supercross champ Dungey who missed the outdoor season in 2016 with a back injury. "I'm happy with the ride and I'm excited to move forward this season. The track was rough and tough tonight, it would reach out and bite you if you weren't careful. Kenny was riding really well tonight, I didn't have anything for him. The start was key and you had to get out there and go right off the bat."
3 Musquin WILL win one this year!
He's the man who Roger De Coster said was consistently the fastest of his riders this winter, as evidenced by his wins at European Supercross races. And when he drew level with Roczen for the holeshot, many thought the race was on.
But Frenchman Musquin, whose style is very different to many of the riders especially often choosing to double through the whoops rather than skimming them, couldn't keep up at Anaheim. He gave way to Tomac and Dungey, looking like he was about to fade.
But it was Tomac who faded, with Musquin coming back strong at the end of the moto to pass the Kawasaki man and finish a little more than a second behind Dungey for third place. His time will come.
Musquin said: "It feels really good to be on the podium, especially at Anaheim. I knew I was capable and it's just really awesome to see the work that we put in while in Florida pay off. It was a tough track tonight so I'm really happy to be on the podium and I'm looking forward to making some more adjustments with the bike and continuing the momentum."
Tomac eventually faded back to fifth, claiming arm pump was his problem. He certainly had the speed and aggression at the start of the race, but not at the end. "The day started off great," said Tomac. "Qualifying second calmed my nerves and allowed me to enter the night show with a level head. The main started off well but around the halfway point my arms tightened up and I began slipping back a bit. I'll come back swinging at the next round."
4 A tale of DNS, DNQ and DNF!
The Anaheim round was hindered by non-starts for Justin Barcia who was injured a few weeks ago and his JGR Suzuki ride was taken by Jake Weimer. And of course 250 champ Malcolm Stewart and James Stewart are without a ride – although James hinted the pair may be back very soon.
The evening also saw one major DNQ as ex world champ Christophe Pourcel failed to get his factory Husky 450 into the main event. And in the 250s, Josh Hansen turned up on a Husky with a gold Star Wars C-3PO replica helmet and failed to finish his heat race and the last chance qualifier, too.
KTM's 450 new boy Trey Canard did qualify, but opted not to go to the line in the final as he'd hurt his shoulder in a hard crash in practice. He tried to ride the parade lap, but wisely pulled out in pain.
And it wasn't a great start for Chad Reed, either. He clashed with Weston Peick in the main event and his waterpump got smashed. He had to retire, but luckily was uninjured.
5 All systems are normal
Some things don't seem to change, whatever the year, Jason Anderson got a mediocre start, rode his heart out and caught up his arch rival Cole Seely who was fading back from a decent start. Anderson muscled past and finished fourth. A great ride, and typical of what he did in most of 2016 apart from when he won the opener.
And true to form, KTM's Davi Millsaps had a great start, ran near the front then faded back too. He finished a respectable seventh. Weston Peick raced hard and took eighth from Josh Grant. And perhaps the most surprising was 250 champ Cooper Webb who many had down as a potential winner. He was never on the pace and ended up 10th.
The sole Brit in the race, Dean Wilson, was riding well in qualifying on his privateer Yamaha YZF450 spannered by his dad Andy. He was running near the top 10 in the final but had a brake problem and faded to 13th. But at least he didn't get hurt.
"Not my best day of riding," he said. "I was very nervous and tight all day. Glad to make it out safe! I just want to improve every weekend and be in the top 10."
6 The fastest man didn't win the 250s
The man who has the whole world talking is Pro Circuit's new boy Austin Forkner. Just a year out of amateurs, he's already battled with Jeffrey Herlings in the USGP and looked set to dominate the West Coast series. Until a poor start and a huge endo in the whoops while trying to pass his team-mate Justin Hill took him down that is.
He got back on, dusted himself off, came through the field and still finished eighth while setting the fastest lap. And sent out a huge message to his rivals and the world at large.
Forker's demise gave a lucky escape to Red Bull KTM's Shane McElrath who took the holeshot, led every lap and claimed his first Supercross win from Yamaha's Aaron Plessinger.
Plessinger moved past Husky's veteran rider Martin Davalos and gave chase to the KTM man but couldn't quite reel him in. McElrath crossed the finish line just two seconds ahead of Plessinger, with Davalos third from Mitchell Oldenburg, Hill and Honda's Alex Martin.
"It's hard to put it into words," said McElrath who sank to his knees in ecstasy after the win. "The whole time out there riding I was tired, but my opponents were tired too. It was 'keep pushing, keep pushing, one more lap, one more lap.' When I crossed the finish line I wanted to let go of the bike. It's unreal."
7 Air forks are back, as are spring!
There's nothing like the opening AMA round for the teams to wheel out their newest race kit, although they are often very keen to keep it all quiet! But the news this year was all about forks. Air forks or springs forks? Both!
It's Showa that has been making great strides with new forks. Last year, many of the works teams used Showa SFF TAC forks – which is triple air chamber. Except insiders say one of the chambers had a coil spring inside – but not the main chamber. Air still provided the main spring.
Now the forks have made a sort-of U-turn and are said to have a conventional spring inside for the main resistance. But there is also an air chamber inside too. So you can run a softer spring for more compliance over small bumps but the air pressure kicks in over the larger stuff to make it stiff enough. Pretty much a much more advanced version of the air pressure some bikes used to run in their spring forks in the 1980s! Josh Grant ran these Showas on his worls KXF450 while his team-mate Eli Tomac used KYB spring forks.
The Yamaha factory 450s of Chad Reed and Cooper Webb run KYB AOSS spring forks but have the adjuster caps that look like those of the PSF air forks. So there are some secrets going on inside there, too! Reed uses X-Trig ROCS clamps but with solid-mounted clamps instead of the hydraulic units. And there's an X-Trig rear shock pre-load adjuster, plus a new resonance chamber on the Pro Circuit header pipe and a Rinaldi hydraulic clutch.
Other tech highlights at Anaheim included Jason Anderson and Christophe Pourcel using very different exhaust headers. The Frenchman's was very long, potentially to give more bottom end grunt.
In the 250 class, Geico Honda ran data acquisition on their front forks that looked very damage-prone, plus data logging on their gear levers and they also blocked off their airbox vent holes too.
Suzuki have added duel injectors and lots of GET data-gathering hardware to their 250 as raced by Phil Nicoletti in the JGR team, although the factory are heavily involved with the development of the bike rather than JGR.